In order to improve user experience and help us improve our site, this site uses cookies.
This document explains what cookies are and how we use cookies on our site.
What are cookies
Cookies are small pieces of information, stored in text files, placed on your computer browser. Some cookies can be read by the website on your subsequent visits. The information stored in cookies generally relates to your browsing habits on this website. Other cookies are deleted when you close your browser and only relate to the working of the website.
Each cookie can only be accessed by the site which has created it.
What cookies are we using
This site uses the following cookies:
Strictly necessary cookies
This type of cookies are necessary for the site to function or to provide you with certain necessary functionalities. This site uses cookies for the following functionalities:

Session Cookies: those do not store personal information and are used by the site to preserve the visitor's session state across pages

Preferences

Cookies Banner: should you accept the use of cookies via the banner a cookie allowing us to remember your choice will be placed containing the date and time of acceptance. The "cookie_accept" cookie can be removed from your settings

Third party cookies
Some cookies may be set on your computer by third party sites and systems we may use.

Analytics: We use Analytics (Statcounter.com) to provide us with information on this site. In order to insure we do NOT store personal information through such system we are masking visitor's IP address through the option settings. The information provided allows us to better understand where visitors come from, what area of our site they like best and some of their behaviours on our site.
All browsers allow you to turn off cookies or to customise your settings for cookies. Should you wish to change those settings please feel free to do so.
Please note that if you turn off cookies or change your settings, some features / functionalities on this site may not work correctly.
No Contracts

The policy of larger service providers is to confuse you with complicated offers, and bundled prices. Mostly, their quotations are for special offers that run out after a couple of months. Then you start to pay the real price, and you are bound in a contract.
Rating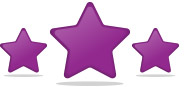 We do not believe in making customers commit to 12, 18 or even 24 month contracts like most other service providers.
Fast Connection

We believe that our customers should be free to enjoy the Internet without worrying about bandwidth restrictions. Unlike most other service operators we don't impose any usage caps or download limits and we don't slow you down at peak times.